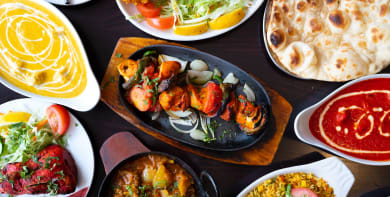 Reviews
Anita
"It was only 5 minutes late but definitely worth the wait. Food was piping hot and delicious ⭐⭐⭐⭐⭐"
23/01/2021
Yuki
"Delivered fast, great food, and the staff has read my note probably☺️ I appreciate it. recommend to order from here"
20/01/2021
leslie
"Did not taste as good as my last balti not enough sauce too many veg ends up you can't taste the balti. I love veg but there's too much going on I couldn't eat the meal in the end."
17/01/2021
Sandra
"Food is always tasty, chicken avaidh is really good and I love the GOC naan. I would recommend this place to any Indian food fan. Arrives pretty much on time and always hot."
16/01/2021
Menu
Contact Us
Find Us
54 New Road, Dublin 22, CLONDALKIN
Opening Hours
Please note, delivery times may vary.
We deliver to
Adamstown, Baldonnel, Ballyboden, Ballycullen, Ballyfermot, Ballymount, Belgard, Bluebell, Carna, Castletymon, Chapelizod, Cherry Orchard, Citywest, Clondalkin, Clondalkin Village, Clondalkinballymount, Clondalkincappaghmore, Clondalkindunawley, Clondalkinmonastery, Clondalkinmoorfield, Clondalkinrowlagh, Cookstown, Crumlin, Decies, Drimnagh, Drumfinn, Fettercairn, Firhouse, Firhouse Village, Firhouseballycullen, Firhouseknocklyon, Fortunestown, Goldenbridge, Greenhills, Harolds Cross, Inchicore, Islandbridge, Jobstown, Killnarden, Kilmainham, Kilmainham (Dublin), Kilnamanagh, Kimmage, Kingswood, Knocklyon, Kylemore (Dublin), Kylemore Road, Longmile Road, Lucan Heights, Lucanesker, Lucanst. Helens, Naas Road, Nangor Road, Newcastle, Newcastle (Dublin), Newlandscross, Old Bawn, Palmerston, Palmerston Village, Palmerstown, Park West, Perrystown, Rathfarnhamballyroan, Red Cow Roundabout, Saggart, Springfield, Tallaght Village, Tallaghtavonbeg, Tallaghtbelgard, Tallaghtfettercairn, Tallaghtglenview, Tallaghtjobstown, Tallaghtkillinardan, Tallaghtkilnamanagh, Tallaghtkingswood, Tallaghtmillbrook, Tallaghtoldbawn, Tallaghtspringfield, Tallaghttymon, Templeogue, Templeogue Village, Templeoguecypress, Templeoguekimmage Manor, Templeoguelimekiln, Templeogueorwell, Templeogueosprey, Terenurecherryfield, Terenuregreentrees, Terenurest. James, Tymon North, Walkinstown