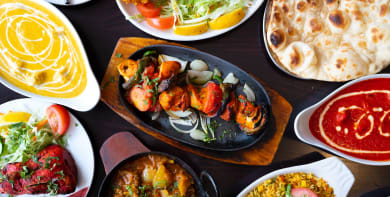 Reviews
Owen
"Very tasty will order again"
10/04/2021
Nicola
"Great menu choice, fabulous tasting food delivered piping hot and by a friendly professional delivery driver on time !"
09/04/2021
Hayley
"Food was delicious and fast delivery!"
09/04/2021
Harley
"Nice but I have had better in the area... needs a slight improvement to dishes"
09/04/2021
Menu
Contact Us
Find Us
54 New Road, Dublin 22, CLONDALKIN
Opening Hours
Please note, delivery times may vary.
We deliver to
Adamstown, Baldonnel, Ballinascorney, Ballyboden, Ballycullen, Ballyfermot, Ballymount, Belgard, Bluebell, Bohernabreena, Carna, Castletymon, Chapelizod, Cherry Orchard, Citywest, Clondalkin, Clondalkin Village, Clondalkinballymount, Clondalkincappaghmore, Clondalkindunawley, Clondalkinmonastery, Clondalkinmoorfield, Clondalkinrowlagh, Cookstown, Decies, Donaghcumper, Drumfinn, Edmondstown, Edmondstown (Dublin), Fettercairn, Firhouse, Firhouse Village, Firhouseballycullen, Firhouseknocklyon, Fortunestown, Glenasmole, Greenhills, Inchicore, Jobstown, Killnarden, Kilnamanagh, Kiltipper, Kingswood, Knocklyon, Kylemore (Dublin), Kylemore Road, Longmile Road, Lucan, Lucan Heights, Lucanesker, Lucanst. Helens, Naas Road, Nangor Road, Newcastle, Newcastle (Dublin), Newlandscross, Old Bawn, Palmerston, Palmerston Village, Palmerstown, Park West, Rathcoole, Rathcoole (Dublin), Red Cow Roundabout, Saggart, Springfield, Tallaght Village, Tallaghtavonbeg, Tallaghtbelgard, Tallaghtfettercairn, Tallaghtglenview, Tallaghtjobstown, Tallaghtkillinardan, Tallaghtkilnamanagh, Tallaghtkiltipper, Tallaghtkingswood, Tallaghtmillbrook, Tallaghtoldbawn, Tallaghtspringfield, Tallaghttymon, Templeogue, Templeoguecypress, Templeoguelimekiln, Templeogueorwell, Templeogueosprey, Terenurecherryfield, Terenurest. James, Tymon North, Walkinstown