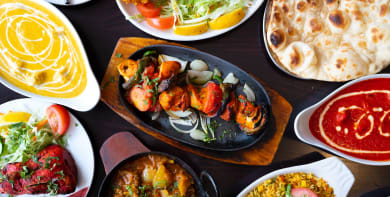 Reviews
David
"Lovely meal arrived on time and we all enjoyed it. Highly recommend and would order again"
25/07/2021
Gerard
"Tasty food however I wasn't impressed enough to order again"
23/07/2021
Ciaran
"Beautiful"
23/07/2021
Sandra
"Arrived piping hot and tasted delicious as always. Will definitely order again. Thanks."
22/07/2021
Menu
Contact Us
Find Us
54 New Road, Dublin 22, CLONDALKIN
Opening Hours
Please note, delivery times may vary.
We deliver to
Adamstown, Baldonnel, Ballinascorney, Ballyboden, Ballycullen, Ballyfermot, Ballymount, Belgard, Bluebell, Bohernabreena, Carna, Castletymon, Chapelizod, Cherry Orchard, Citywest, Clondalkin, Clondalkin Village, Clondalkinballymount, Clondalkincappaghmore, Clondalkindunawley, Clondalkinmonastery, Clondalkinmoorfield, Clondalkinrowlagh, Cookstown, Decies, Donaghcumper, Drumfinn, Edmondstown, Edmondstown (Dublin), Fettercairn, Firhouse, Firhouse Village, Firhouseballycullen, Firhouseknocklyon, Fortunestown, Glenasmole, Greenhills, Inchicore, Jobstown, Killnarden, Kilnamanagh, Kiltipper, Kingswood, Knocklyon, Kylemore (Dublin), Kylemore Road, Longmile Road, Lucan, Lucan Heights, Lucanesker, Lucanst. Helens, Naas Road, Nangor Road, Newcastle, Newcastle (Dublin), Newlandscross, Old Bawn, Palmerston, Palmerston Village, Palmerstown, Park West, Rathcoole, Rathcoole (Dublin), Red Cow Roundabout, Saggart, Springfield, Tallaght Village, Tallaghtavonbeg, Tallaghtbelgard, Tallaghtfettercairn, Tallaghtglenview, Tallaghtjobstown, Tallaghtkillinardan, Tallaghtkilnamanagh, Tallaghtkiltipper, Tallaghtkingswood, Tallaghtmillbrook, Tallaghtoldbawn, Tallaghtspringfield, Tallaghttymon, Templeogue, Templeoguecypress, Templeoguelimekiln, Templeogueorwell, Templeogueosprey, Terenurecherryfield, Terenurest. James, Tymon North, Walkinstown